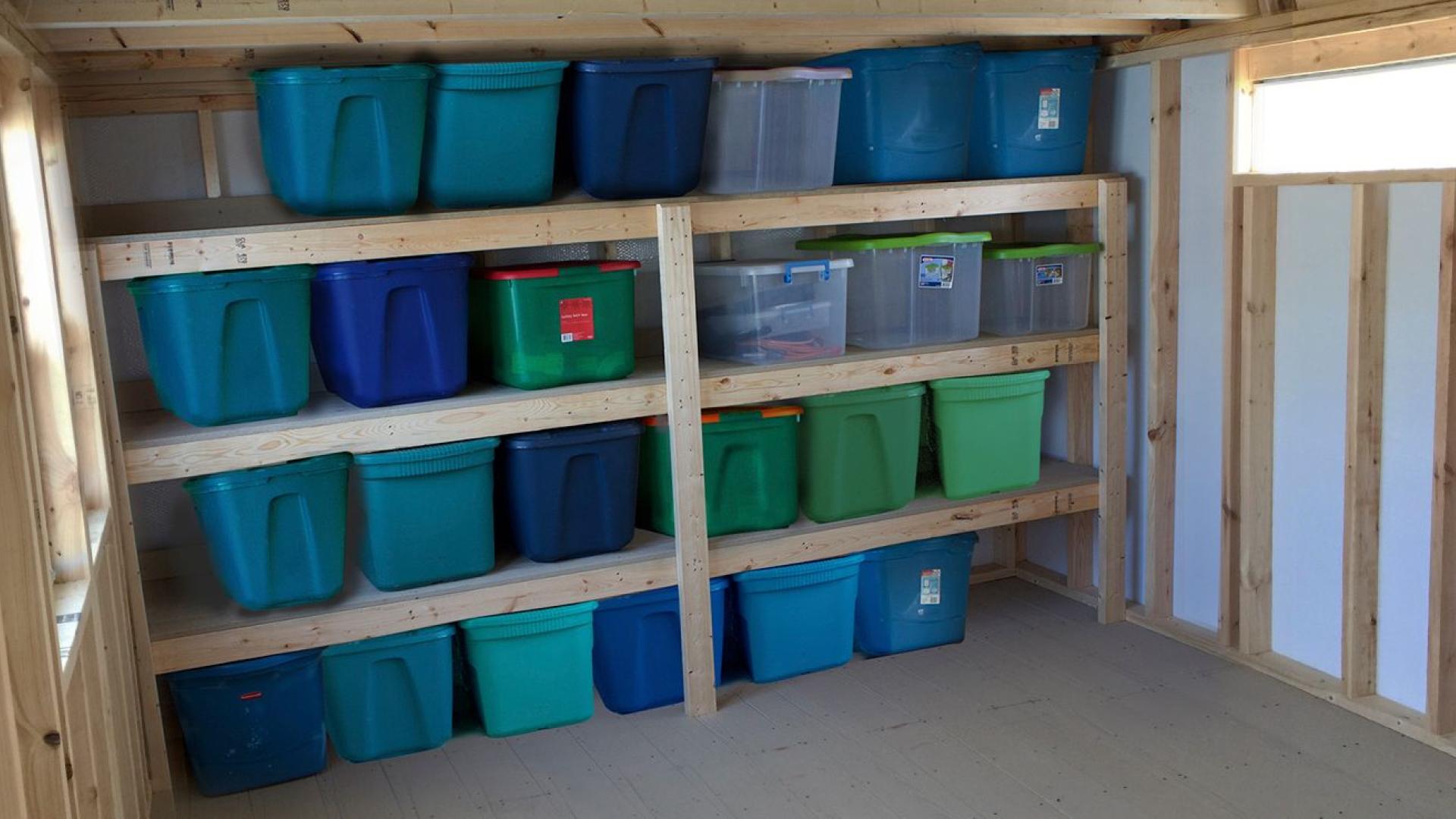 A painful truth is that the winter months can wreak havoc on your storage shed or garage organization! Winter in the colder regions of the country translates to many occurrences of inclement weather and lots of time spent outside cleaning up after it and maybe even playing in it. With the cleaning and playing in the snow, sleet and ice come all of its associated equipment. For cleaning, households typically at least have shovels, but there are also snowblowers, tractors with plows, and more! Winter-weather recreational equipment is just as voluminous, shovels, skis, snowboards, sleds, and the list goes on.
We all know what typically happens to all of this equipment - it ends up piled, stacked, and often cluttered around your garage or shed. Once the winter months pass this equipment is no longer used, and should be stored away for safekeeping. Let's take a look at some storage options that can keep your shed organized after the winter months. 
Shelving and Wall Boarding
Installing shelving or wall boarding on the interior walls of your storage shed or garage can go a long way in organizing the equipment clutter. Wall boarding comes in many different forms including peg board, tracks, hooks and more. Skis, ski poles, sleds, shovels, snow shoes, and more often come equipped with a means for easily hanging them or attaching them to some form of wall boarding. Shelving allows for the stacking of these types of equipment and a means for easily accessible organization that keeps your toes from finding those stacks of equipment in the dark when you're taking the trash or recycling out to the trash bins. 
Cabinetry and Workbenches
Looking for a means of organizing your items that not only reduces the amount of piles but also the visual clutter as well? Look no further than a workbench or cabinetry. These both offer the opportunity to declutter and tuck items away behind doors and drawers. Workbenches can be added to sheds and garages in l-shape, u-shape or straight configurations based upon what works best for the square footage available. Cabinets can be installed on interior and exterior walls of storage buildings based upon how you intend to use them and how much storage space you'd like to add. 
Bins and Containers
The simplest way to organize shovels, skis, ski poles, sleds and similarly long, narrow pieces of equipment is to purchase a few large sized containers and line them up along a section of wall. Designate which bin or container is for which type of equipment and make a practice of returning all tools and toys to its storage location after each use. 
Build a Storage Building
If you've taken all of the steps that you can to organize your garage or storage shed but you find you still do not have enough space for winter supplies, especially bigger equipment like snowmobiles, tractors with plows, ATVs and Side-by-Sides than it may be time to build. Perhaps it is time to build a new garage or storage shed to store these items. Do you have questions about what you can build on your budget or what options are available in storage buildings?  Or if you would like to design your own, we have a tool for that! Do not hesitate to contact our sales team at your earliest convenience.