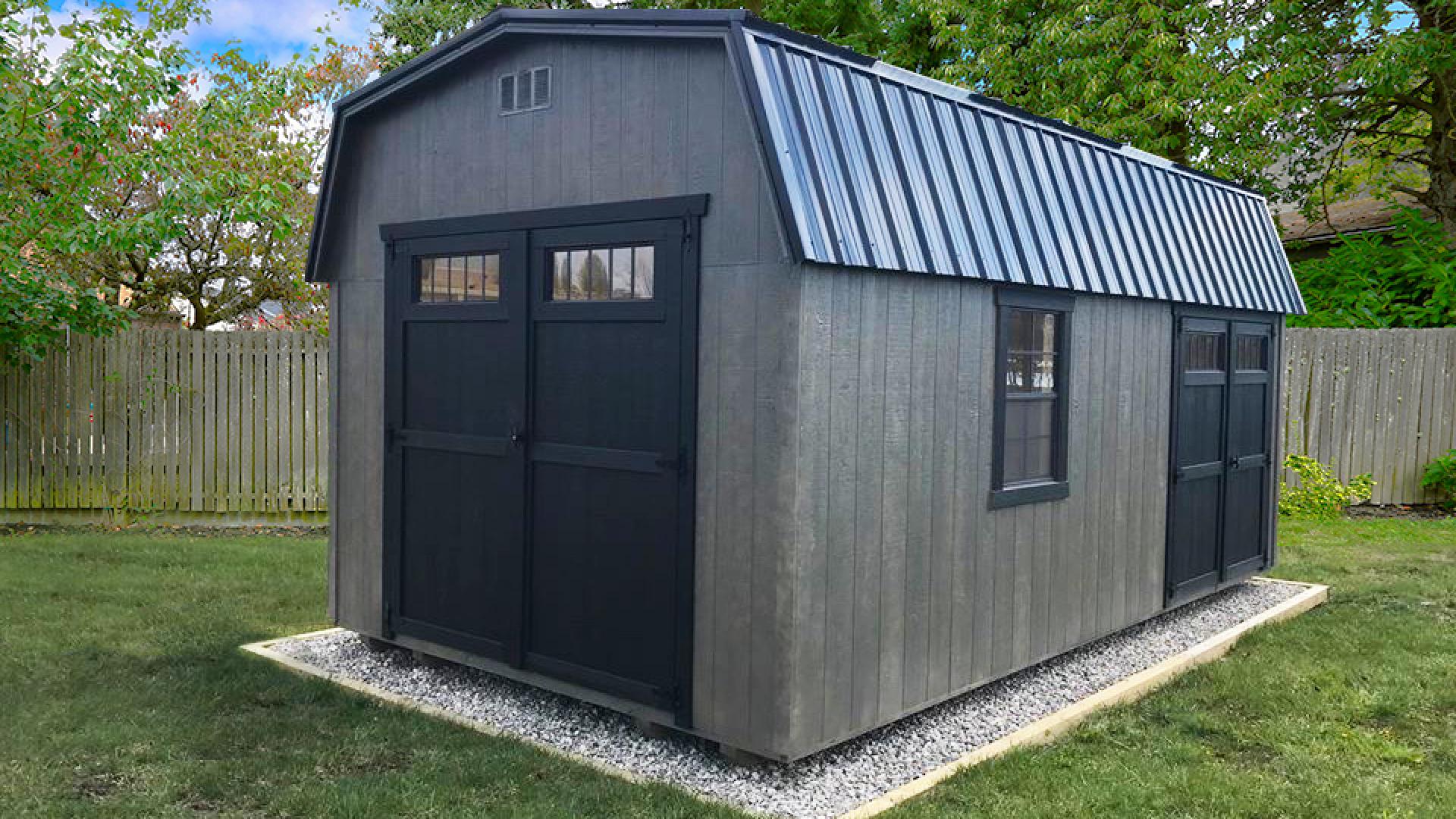 While there are a lot of things you have to consider when buying or customizing your mini barn or high barn, the door is something you shouldn't overlook. Not only does it provide aesthetic value to your barn shed, but depending on your needs, it also can provide a lot of practical value.
Garage Door
Depending on the size of your shed and whether you want to put your door on the front or side, a garage-style door is a great option. It's likely going to be your widest and tallest barn door option; which might end up being perfect for your needs depending on the size of items you are storing in your barn or garage. If you are storing large equipment and tools in your shed, a shed with a garage door will make accessing your storage much easier.
Double Door
The look of a double barn door is classic. If you enjoy the charming look of red barns in rural America, then investing in a double barn door for your own storage shed or barn is an excellent option. A wider and taller barn will benefit from having an equally wide double door so that even your biggest piece of equipment can be stored in and removed from your high barn with ease.
Single Door
In some cases, mini barn doors are of the single door variety simply because a double door or sliding door wouldn't be practical due to the size of the barn itself. So if you have your heart set on a mini barn, then consider the advantages of a single, larger door rather than two smaller doors. 
Single doors are also great if you are using your barn as a playhouse, outdoor living space, or man cave or she-shed. Having a singular door gives you the feeling of being in a small, house-like space while also providing you with more wall space to decorate or utilize for shelves.
Sliding Door
A style that has found its way into homes with rustic themes, the sliding barn door is a classy and unique way to give your storage barn an attractive entryway.
Depending on the size of your barn shed, you can either have a single or double sliding door. The advantage of a sliding door is the way it looks clean and stylish whether the door is open or closed. There is an added element of maintenance required compared to traditional doors so that the track stays well-oiled and smooth, but if you are committed to this style, it won't be something to deter you.
Whether you are in the market for a garden shed, mini barn shed, garage shed, or something in between, Country Cabins will have something that's right for you. If your vision is unique and our prebuilt sheds don't quite capture it, we have a tool that allows you to customize your shed to your heart's desire.