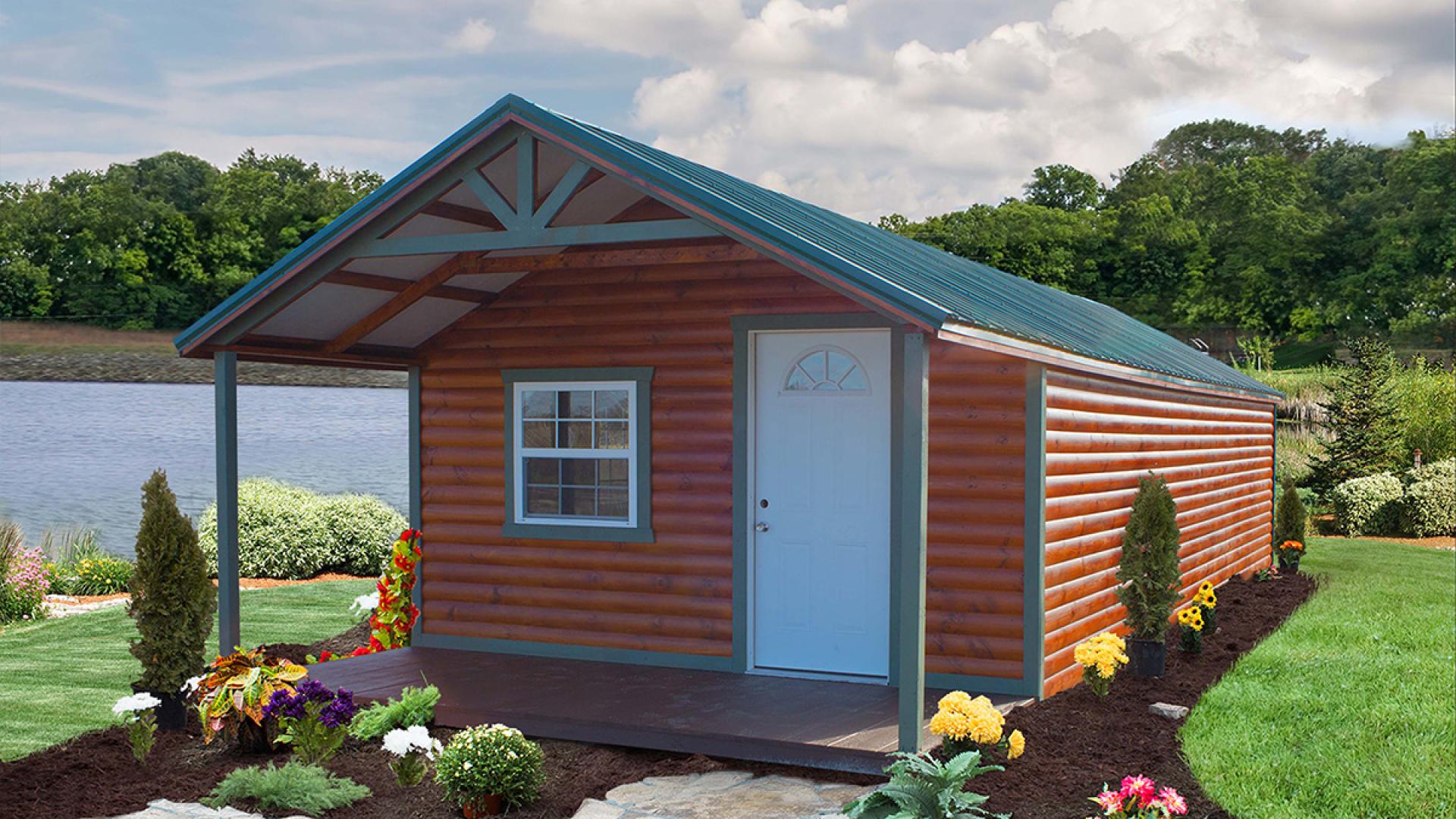 The feeling of driving down winding roads toward your hunting cabin is like nothing else, as the stress of daily life melts away every mile. When you turn the key to enter the door, you want to be enveloped into a cozy space that feels instantly inviting and relaxing. Walking into your cabin should feel like the equivalent of a deep breath.
A hunting cabin provides an escape from everyday life, and the aesthetic plays a big part in how enjoyable that escape will be. Many images come to mind when you think about hunting cabin decor: bearskin rugs and game mounts, plaid blankets, and furniture hewn from logs. 
Everything is comfortable, the fireplace is crackling, and you've settled into your favorite chair with a mug of warm coffee. But it takes a little work to create that perfect space; work that should be done while planning and building your hunting cabin. Any master design inspired by nature is an excellent way to begin.
A Natural Aesthetic 
Hunting cabin decor should connect to nature and be inspired by its elements. When contemplating the color scheme for your hunting cabin decor, take notes from the outdoors and bring that look and feel inside. What colors and textures do you see? Earthy browns of swaying tree branches, the varied greens of leaves and grass, deep blue skies, and golden yellow sunsets can inspire your color palette. Nature's shades and textures are naturally woven together to create a perfect tableau.
Rustic interior design emphasizes organic tone, shapes, and textures. Let this inspire you as you bring your personality and tastes into the mix of your cabin decor. Use nature-based colors and natural fabrics like leather and burlap, and elements like exposed wood and steel, throughout your design. The perfect rustic space will connect you with nature.
Keeping It Simple
Keep furniture simple, minimalistic, and above all, comfortable. Your cabin should be casual and easy-going. You're going for lived-in comfort, not luxury linens. Think oversized chairs in soft, worn leather paired with stuffed plaid ottomans, tables made of pine or cedar.
While themes can be fun, the most appealing decor has an air of subtlety. Cabins can often be a replica of the wildlife and nature outside the four walls, but it's important to draw the line! Pair lamps made of antlers with simple shades rather than deer print, arrange wooden ducks on a mantle with freshly picked wildflowers, display the game mounts tastefully - selecting a few prize trophies rather than all of them.
Focal Points to Draw In Attention
Maximize any distinct focal points, like a stone fireplace or wood stove, or picture window overlooking the landscape. Bring the outside in wherever possible! All windows should have optimal exposure to the outdoors. Embrace natural light and let the sunshine in with lightweight window treatments or wooden blinds that you can raise fully.
The very nature of wood gives off the feeling of security and warmth, so keep interior walls wood stained or painted a warm color. But sometimes too much wood can be overwhelming, so carefully balance the use of wood furniture, cabinets, and walls. Make sure to incorporate pops of color into your design.
Bedroom Decor
Hunting cabin bedrooms are typically a little smaller, but that's the first step toward creating the best kind of cozy! A good way to begin is with the bedding which can be the anchor for the rest of the room's design. The most important thing is comfortable, warm bedding! Layering fabrics and textures will create an inviting space to welcome you at the day's end. 
Heirloom quilts are a perfect statement piece for a hunting cabin bedroom, either covering the bed or hanging on the wall. Of course, plaid is a tried and true favorite for hunting cabins. Or opt for wildlife and nature-inspired bedding sets featuring bears, deer, trees, and pine cones. Have a set of bedding for the season changes. 
Nothing is better than slipping in between flannel sheets on a cold, snowy night. Have some electric blankets on hand, too!
Rugs will add another layer of warmth to the room, while at the same time providing functionality if you're trying to warm up wooden floors in cold months. Braided wool, cowhide, or jute rugs are some selections that will fit right in with your rustic bedroom.
Hunting cabin bedrooms are the perfect place for bunk beds made of logs or a queen bed with a leather headboard. Keep the accent furniture minimal and the room clutter-free. Focus on comfort and ambiance, with warm lighting or candles (we recommend flameless!) and personal touches like framed photos of family activities at camp.
 
Accessories are the finishing touch, so have some fun with them! Antique accents are always a classic. Hunt for old snow skis, snowshoes, a vintage record player, or antique fishing rods. Incorporate wildlife tapestry pillows, cozy blanket throws, and a stack of classic board games.
A Note for Dedicated Hunters
Not all hunting cabins are created equal. Some are purely used for hunters only, while others welcome families in search of media-free time together. For the serious hunter, while the decor is nice, basics are key. Getting out the door before daybreak is a rule of thumb, so a cabin set up for convenience and intuitive flow is best. 
Dedicate one room as the gear room. If the cabin is already structured with a mudroom and closet, or if you need to carve out space in the garage or entryway, dedicate a closet or wall racks and hooks for the camo and Ghillie Suits.
Set up shoe racks with boot warmers, and shelves for all the hunting essentials. Keeping the gear in one place makes it easier to get out the door in the morning, and makes it easier to clean the interior of your beautifully decorated hunting cabin when the trip is done.
See Our Hunting Cabins