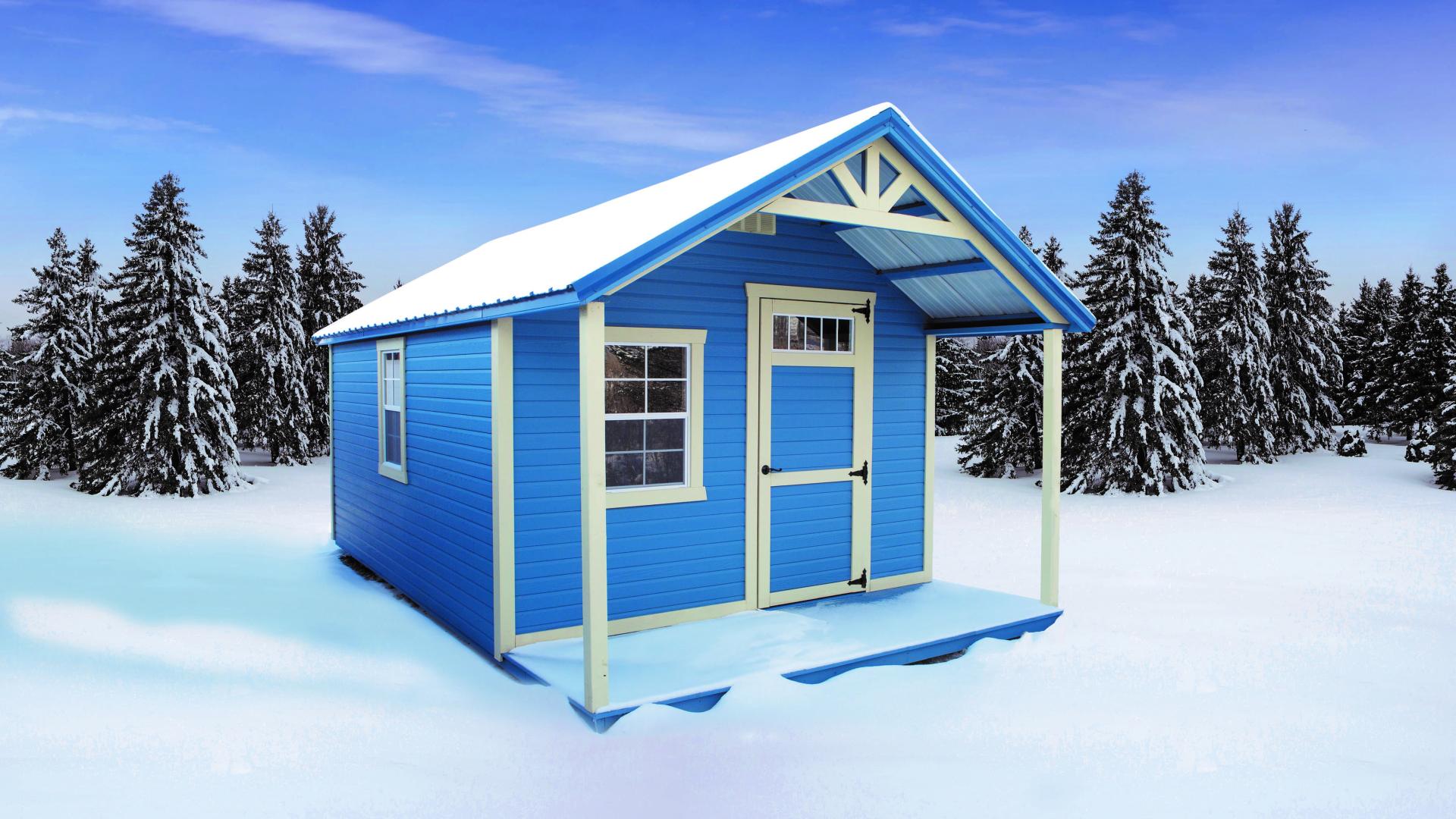 Depending on what state you reside in and where you have set up a hunting camp, the weather across the course of the winter months may vary.  Whether your hunting cabin is in a dry, damp, cold or warm environment – it is integral to the life of your building that you maintain it and prepare for all seasons of weather. You wouldn't want it to get damaged after going through the long process of building a hunting cabin.  Taking the necessary precautions and preventive measures each season will add to the longevity of your structure and insure that you, your family and guests, and future generations of hunters can continue to enjoy it.  
For the purpose of this guide we are going to focus on maintaining a cabin in a cold, inclement weather prone environment.
Tip 1: Insulate Your Hunting Cabin
If you are planning to regularly use your hunting cabin in the winter months, it is important that the building has proper insulation to keep you and your guests comfortable and warm during your stays.  Well before winter rolls around be certain that you check the walls, windows, and doors for any leaks or holes and patch or insulate accordingly with appropriate materials.  
There are a variety of insulation materials you can use to insulate walls to keep a hunting cabin warm, including batt insulation and spray insulation. The best solution will largely be dependent upon the size of the building, the material type you prefer to install, and the budget available for the project.  Additionally, you may wish to consider under the floor insulation options as well. 
Check your pipes!  If the plumbing is uninsulated, you open yourself up to the risk of the pipes freezing and subsequently bursting and flooding the structure. To avoid this, invest in materials like heat tape, pipe sleeves, or pipe wrap to keep plumbing protected and optimally functioning through the winter months or upon your return in the warmer months.
Tip 2: Clear Away Debris 
Before you close up a hunting cabin for the winter – look for debris that may cause drainage issues.  Check for any materials laying in and or potentially clogging gutters and downspouts, for these can prevent proper drainage and cause water flow issues.  While you are in the mindset of checking the gutters, take a look at the roof to make sure it has no debris atop it or developing holes and leaks. 
Clear away debris near the structure's foundation, walkways, and egress to insure that freezing and thawing do not pool near areas wherein it could seep into flooring or foundation through the winter months.
Tip 3: Regular Checks & Security
Even if you are not going to routinely use your hunting cabin in the winter months, it is a good idea to make a habit of stopping by your cabin or having someone within proximity to it check on its status and condition. Regular checks can eliminate unwanted surprises when the warmer weather rolls around and you return to using your camp. Keeping a regular pulse on the condition of it allows you to address problems as they may arise in a more timely manner.
Another benefit of regularly checking your hunting cabin is making sure it remains secure. While checking the condition of the building, it is a good habit to make certain that the locks on your doors and windows are functioning properly.
These are just a few foolproof ways to keep your hunting cabin in working order and well maintained through the winter. Cabin ownership does not have to be stressful – regularly observed and practiced, preventive measures each season can make your hunting trips stress-free for years to come.
Have you considered the idea of buying a hunting cabin?  We invite you to browse the options available in My Country Cabin's product line. Or if you are someone who likes to explore design and feature options for your perfect hunting cabin, try out our Design Your Own feature.