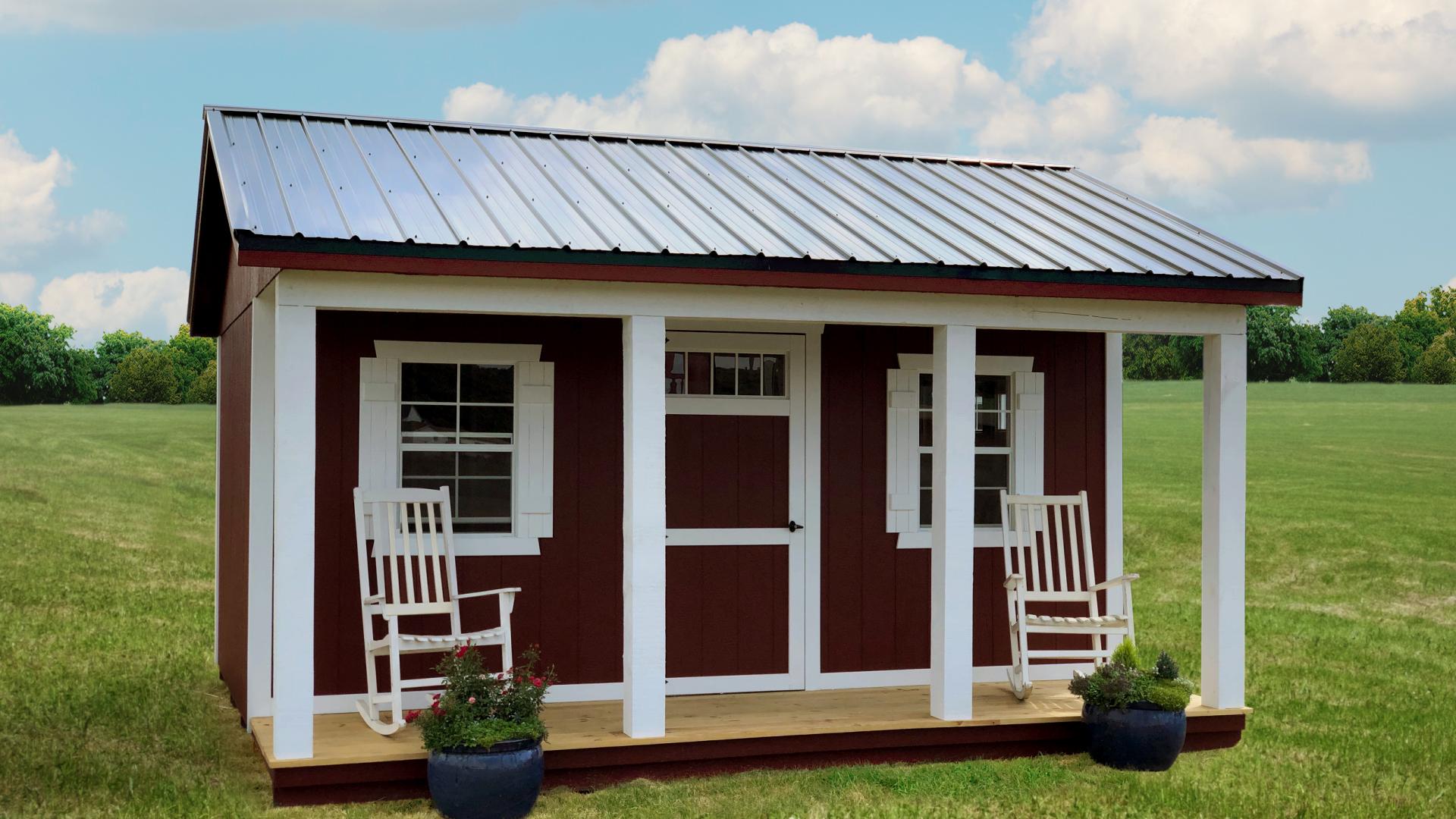 In today's world of technology and screens there is nothing better than escaping to your own hunting cabin in the woods. Our line of pre-built, affordable hunting cabins are designed for function and provide the perfect family getaway. Our line of portable cabins has something for everyone, and offers hunters and families a beautiful structure to escape to. We deliver our cabin shells to you constructed with the same level of detail that you would find in bigger, more expensive cabins but saves you much of the hassle of building a hunting cabin. Then you get the opportunity to finish the interior and transform it into your dream space. 

Appalachian Cabins
Our Appalachian Cabins make the perfect choice for families looking to enjoy a night under the stars. Each Appalachian cabin comes fitted with a 4' porch perfect for enjoying a cup of coffee in the morning or a glass of your favorite beverage as the sun sets. The oversized eave overhangs protect you from the elements so you can enjoy the outdoors even in inclement weather. Like all of our portable cabins, the Appalachian is built with LP Smartside products and made to last a lifetime. 
Lofted Cabins
The Lofted Cabins are a great option for larger families still looking for the affordability of a portable cabin. Porch size is customizable, and each cabin comes with a loft over the porch for additional storage or living space. You can also fully customize this cabin with an additional room that bumps out onto the porch. With full customization and affordability, Lofted Cabins offer our customers the opportunity to design the perfect hunting cabin on their terms. 
Hunter Cabins
The Hunter Cabin is perfect for those looking for a small hunting cabin getaway. Many customers are attracted to the Hunter Cabin because of its affordability, but are blown away by the quality of construction. Just like all of our prefab cabins, we use an insulated vapor barrier on all roofs and walls to keep out the elements. The Hunter Cabin comes in dozens of sizes to fit any family or budget. 
Customize Your Hunting Cabin
Like all of our buildings, our hunting cabin shells are fully customizable to our customers' specifications. Our customization options give you the opportunity to make your cabin more secure, add additional storage, and change the aesthetics of the cabin to your taste. We also have a state of the art shed builder application that allows you to design the perfect cabin and visualize it each step of the way. 
Portable Cabin Delivery
At Country Cabins we deliver our buildings up to 50 miles from the dealer free of charge. With hunting cabins we understand that you may need your building to be delivered outside of this radius, contact us and we will do our best to accommodate you. 
We deliver our buildings using a Shed Mule, a type of forklift designed to navigate through tight spaces with no damage to the yard or cabin. Our delivery process takes all of the stress out of shed delivery, and ensures your building is transported safely to your property. 

Rent to Own Hunting Cabins
Each of our hunting cabins is available to rent to own, offering our customers flexibility in their payments. Our rent to own cabins are hassle free with no credit check required. If you are ready to pay off your cabin early, there are no early payoff fees! If you are interested in learning more about our rent to own options fill out our pre-qualification form here. 
Whether you are looking for a small hunting cabin or a pre-built cabin with room for the whole family, we would love to discuss how we can help. Contact us today for a complimentary quote on your portable hunting cabin today!