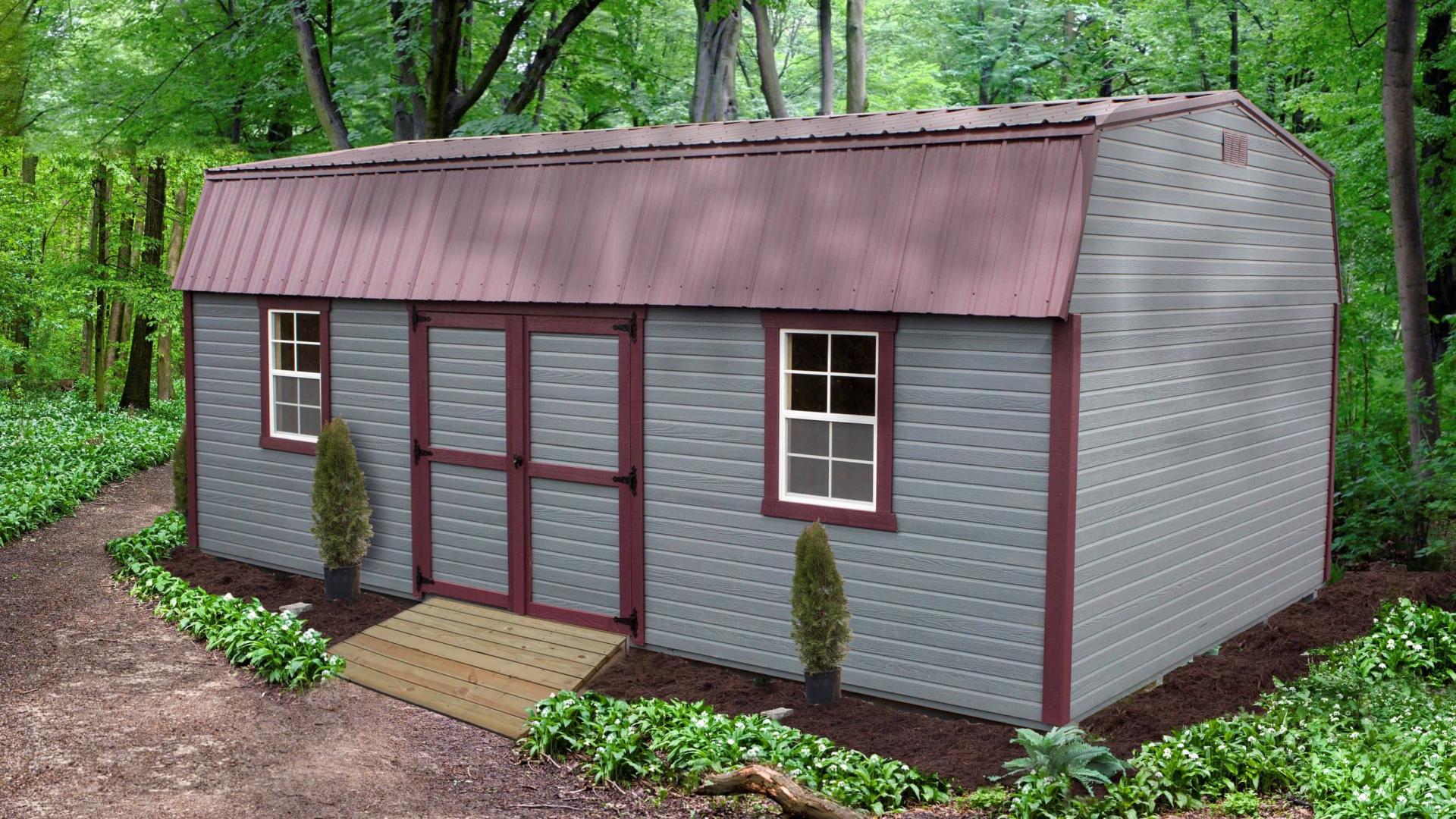 If you were never the type of person to trust the "I'm Feeling Lucky!" search query button when it first premiered on Google, you probably shouldn't bother asking Siri about "barn sheds near me" during your next portable storage research. When you begin thinking about buying a high barn, you can count on ample storage, overhead lofts, and extra square footage when you invest with models from Country Cabins.
Although each high barn features double barn doors, two lofts on either end, notched runners, high-density engineered wood flooring, and insulated vapor barriers, there are still several ways you can customize your design to suit your needs! 
Read on to learn more about styles, types, and sizes that you can enjoy when choosing from our wide variety of high barn storage sheds.
Choosing Siding for Personality and Placement
Picture your proposed high barn location: will your storage unit be shrouded in groundcover? Trees? Partial shade? Flowerbeds? Will nearby water sources be an obstacle to consider? All of this should be taken into consideration, as not all paints, stains, and siding options will be the right fit for each environment or setting. Depending upon neighboring sources of dampness, for example, choosing treated siding over wood might be your best bet.  
Technically speaking, siding styles range from Dutch Lap, to LP Barn Siding and Half Log Siding for all of our models. The first of these is perfect for those looking for a renewable resource engineered to resist the negative effects of mold, rot, and termites. Those properties susceptible to invasive insects such as termites, or fungi, would be wise to choose such an option.
For those enamored with the rustic look, investing in the Half Log cabin style is perhaps more to your preference for a high wall barn. Our most popular selection for a reason, this fade-resistant option withstands the elements thanks to an Ultra 7 coating by PermaChink.
Lastly, LP Barn Siding transforms buildings into sturdy and attractive Amish high barns. Stained or painted with urethane, you can look forward to passing many seasons without needing to worry about whether your barn will last. 
Choosing a Color
When you picture a barn or lofted gambrel in your head, you might be traditional and envision a red and white theme. But why limit yourself to the picturesque model of the past? Today, the sky's the limit when it comes to choosing a style preference. If you hail from Scandinavia or European countries, you would likely picture a barn in rusty red and brown, which is where our American idea actually comes from. Another decision you will need to make is whether staining or painting is the right fit for you. The former is offered in Chestnut Brown, Driftwood, Naturewood, Mahogany, and Honey Gold.  
A couple of basic hints and tips to keep in mind: if you are looking to keep livestock and horses cool, you should opt for a reflective white or light gray. If you live in an area with low grass area relative to land, or in a sun-beaten path, you should not decide on a dark hue, as this is naturally absorbent to light and heat.
Visit Shed Solutions Today to Design Your Own Build
Whether you know which high barn model, size, and options are the right fit for you, or need help deciding which are the best for your personal and placement standards, our professionals are ready to help! Combine beauty and functionality with storage space for the right price today.
Learn more about our financing options or use our barn builder tool to create your own blueprint and get a free quote.